Side Extensions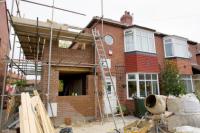 For many reasons, moving home in order to find more space may not necessarily be the answer. Instead, why not consider extending the space you already have? Certainly, an extension can add value to your property and may represent a cost effective solution to meeting your space needs. The benefits of doing this include:
Add value to your present home
Avoid the costs, effort and time associated with moving
The ability to create greater living space to meet your present needs
The ability to future proof your home
In certain circumstances, it may be that you do not even need planning permission!
---
Do I Need Planning Permission?
Planning Permission will not be required if:-
The extension to the side of the property is only single storey and no higher than 4 metres and no wider than half the width of the original dwelling house.
Conservatories and single storey rear extensions within 2 metres of a boundary are no higher than 3 metres with a flat roof or 4 metres with a pitched roof.
Materials must match the existing.
No more than 50% of your private garden area can be built upon. In this calculation, you must include any outbuildings that already exist here.
---