Conservatories and Rear Extensions
Conservatories and Rear Extensions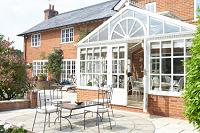 Benefits
Increased living space
A predominantly glazed structure brings the garden into your home particularly if you have a complimentary patio area
A predominantly glazed structure offers an ambient light
N.B. Planning Permission for Extensions is not always required
The Home Improvement Quotes service is all about empowering homeowners with the information to make an informed choice on the right company for them, to carry out their conservatory or rear extension project. You'll have the opportunity to discuss your project in more detail with one of their experienced advisors before being offered the opportunity to use their FREE matching service. They'll recommend the top 3 companies, based on quality and price, nearest to you and arrange for them to call, arrange a survey and prepare a written quote.
This whole service is free of charge to homeowners. You'll also get to read feedback on these companies left by other homeowners, before the companies even call to arrange their appointments. All this information, at your fingertips, will help you make the right choice for your home. To get an instant online quotation click on the button to the side.
---
Do I Need Building Regulations?
For a Conservatory, you will not require Building Regulations when
It is less than 30 square metres in floor area and is built at ground level
at least half of the new wall and three quarters of the roof are either glazed or translucent material
the conservatory is separated by external quality door(s)
glazing and fixed electrical installations comply with the applicable building regulation requirements
When planning where to locate a conservatory, it is advised not to construct conservatories where they will restrict access to windows serving rooms in roof or loft conversions, particularly if those windows are intended to help escape or rescue in the event of a fire.
What is important to remember is that if you intend to create a structural opening between the conservatory and the existing house, you will require building regulation approval for the opening, even if the conservatory is considered an exempt structure.
For a single storey rear extension, you would require Building Regulations.
---