Solar Panels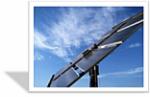 All solar installations are subject to the following:-
Panels on a building should be sited to minimise the effect on the appearance of the building.
Should be sited in order to minimise the effect on the amenity of the area.
Where they are no longer required for microgeneration, they should be removed as soon as possible.
The Home Improvement Quotes service is all about empowering homeowners with the information to make an informed choice on the right company for them, to carry out their solar panel project. You'll have the opportunity to discuss your project in more detail with one of their experienced advisors before being offered the opportunity to use their FREE matching service. They'll recommend the top 3 companies, based on quality and price, nearest to you and arrange for them to call, arrange a survey and prepare a written quote.
This whole service is free of charge to homeowners. You'll also get to read feedback on these companies left by other homeowners, before the companies even call to arrange their appointments. All this information, at your fingertips, will help you make the right choice for your home. To get an instant online quotation click on the button to the side.
---
Do I Need Building Regulations?
With the installation of roof mounted solar panels becoming increasingly popular, it is important to recognise that Building Regulations will Normally Apply should you wish to fit them to your roof.
The issue here is whether the existing roof wil be able to take the extra roof loadings that solar panels will impose on it. Therefore, it will be necessary for you to demonstrate that your roof is capable of taking the additional imposed weight.
Building Regulations do not stop there however. Regulations will also apply to the electrical installation and therefore, we recommend you contact a competent person to undertake this work.
---