Frequently Asked Questions: Building Regulations
What are Building Regulations?
In England and Wales, the Building Regulations apply to defined building work and they set standards for the design and construction of buildings to ensure the safety and health for those in or about those buildings. The building regulations do not stop there but also include requirements to ensure that fuel and power is conserved and facilties are provided for people, including those with disabilities, to access and move aroudn inside buildings.
---
Is Building Regulations Approval the same as planning permission?
Building Regulations approval is a separate matter from obtaining planning permission for the work you may wish to carry out. In certain cases, you may not require planning permission but will require meeting building regulations. For example, if you need to underpin your foundations or wish to install double glazing.
---
Do I need Building Regulations Approval?
It is of paramount importance to check at a very early stage to establish if the project you intend carrying out requires the benefit of building regulation approval. What you must remember is that certain works that may not require planning approval but may actually require building regulation approval. If you are intending to carry out "Building Work" as defined in Regulation 3 of the Building Regulations, then it must comply with the Building Regulations. If that is the case, you will then need to seek approval from a building control body (who doesn't necessarily have to be the local authority).
---
Who and what is a Building Control Body?
You are required to use one of two types of Building Control Service:-
Local Authority Building Control Service or
An Approved Inspector.
Approved Inspectors are private sector companies or practitioners and are approved for the purpose of carrying out the Building Control Service as an alternative to your local authority. Approved Inspectors can provide a service in connection with most sorts of building project involving new buildings or work to existing buildings, including extensions or alterations to homes. They should all be registered with the Construction Industry Council.
If you are employing a builder to do your work you should be clear from the outset whether they are taking responsibility for ensuring that the building work complies with the Building Regulations, and also whether they are taking responsibility for liaising with the Building Control Service you have decided to use. In the case of some minor works, the contractor (if approved to do so) may be able to self-certify the work, meaning you will not need to seek approval directly - the contractor will notify the Building Control Body of their work and that it has been done in accordance with the Building Regulations.
---
What is DDA and how can it affect my building work?
DDA is the Disability Discrimination Act which was replaced by the Equality Act in 2010. It applies to all organisations that provide services to the public and aims to remove barriers from disabled people's participation. In order to avoid significant fines imposed by the government, you may need to consider installing a platform lift to provide access to upper floor areas of your building.
---
What Projects amount to Building Work?
Within the meaning of Regulation 3, the following projects must comply with the Building Regulations
If you intend to erect or indeed extend a building. As we set out above, in certain circumstances, planning permission may not be required.
An alteration project involving work which will temporarily or permanently affect the ongoing compliance of the building, service or fitting with the requirements relating to structure, fire, or access to and use of buildings. For example, if you are intending to change the means of access to your home, you will require building regulation approval.
When installing replacement windows using a builder or window company not registered with the relevant Competent Person Schemes. For example, a company affiliated to FENSA (Fenestration Self-Assessment Scheme) will mean you do not need to seek approval from a building control body.
The installation or extension of a service or fitting which is controlled under the regulations.
The insertion of insulation into a cavity wall.
The underpinning of the foundations of a building.
When you want to change the building's fundamental use.
---
Do I always need Building Regulations Approval? Say I wish to have my windows replaced or new heating installed for example. Would I need Building Regulations approval then?
In certain circumstances, if the work consists of only installing certain types of services or fittings (such as re-wiring a house, installing a new boiler, air-conditioning, replacing your windows, toilet or shower for example), you may not necessarily need to involve a Building Control Service. This will only apply if you employ an installer registered with a relevant Competent Person Scheme. However, this is strictly restricted to that specific type of installation and does not cover any other type of building work.
---
Do I need Building Regulations for fitting, replacing or altering a flue?
If you wish to install a flue, building regulations apply. You should take into account factors such as ventilation and general safety. Installation should be carried out by a suitably qualified installer.
---
Do I need Building Regulation Approval to Decorate the Exterior of My House?
If you want to re-render or replace timber cladding to external walls, building regulations may apply depending on the extent of the work.
Where 25 per cent or more of an external wall is re-rendered, re-clad, re-plastered or re-lined internally or where 25 per cent or more of the external leaf of a wall is rebuilt, the regulations would normally apply and the thermal insulation would normally have to be improved.
---
Do I need Building Regulations to replace or decorate the fascia or soffit boards on my house?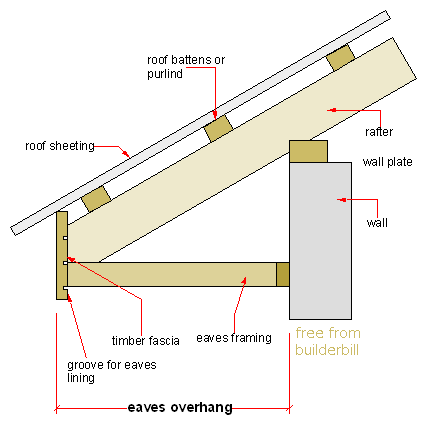 A fascia board is attached to the end of the rafters/truss at the eaves, where the guttering is attachedfor the roof rainwater drainage. These are also placed at the ends of gable roofs to cover the rafters/truss.
A soffit board is placed on the underside of the eaves where the roof overhangs the walls. This is where the ventilation holes are generally provided.
Replacing fascia or soffit boards will not normally require building regulation approval. However, you need to check that the replacement work does not reduce the ventilation provided to the roof void as this could cause condensation to occur within the roof void, which can then lead to damp on timbers. If you have ventilation built in to your soffit boards, you will need to replace like with like.
---
Do I require Building Regulation Approval if I wanted to create a Patio?
The answer to this is no you do not need approval if you wish to create a patio. What you do need to consider however is that if you carry out any works and as a result, you make access to the property less satisfactory than it was before, you would be in contravention of the regulations. Say for example you changes levels and introduced stairs that were not there before, you would then be in contravention of the regulations.
---
Do I need Building Regulations to either build or remove an internal wall?
Yes, Building Regulations will normally apply.
---
What is the Competent Person Scheme?
Competent person schemes allow individuals and enterprises who are competent in their field, to self-certify that their work complies with the Building Regulations as an alternative to submitting a building notice or using an approved inspector and thus incurring their fees.
The work of organisations or individuals accepted as members of a scheme is not subject to Building Control inspection. Instead, the competent person self-certifies that the work is in compliance with the Building Regulations.
In all schemes, the competent person reports the work to the scheme organiser, who in turn informs the local authority or Approved Inspector that work has taken place and issues a certificate to the customer. This reporting process must be completed within 30 days of the work being finished. For example, if you are having your windows replaced, that competent person may belong to FENSA (Fenestration Self-Assessment) or if you are having work carried out to your plumbing, heating or hot water system, you may equally employ a person who belogs to CORGI (which is the national watchdog for gas safety in the United Kingdom).
---
What should I expect when having this work undertaken?
As set out above, any work you have carried out must meet current Building Regulations and must not make other fabric, services and fittings less compliant than they were before or indeed dangerous. For example, if you were having your windows replaced, the installation must not make compliance worse in relation to means of escape, air supply for combustion applicances and their flues and ventilation for health.
---
Do I need Building Regulations to repair or re-cover my roof?
If you wish to carry out repairs on or re-cover less than 25% of the area of a pitch or flat roof, you will not normally be required to submit a building regulations application. You will require approval if:
You intend to carry out structural alterations.
The performance of the new covering will be significantly different to that of the existing covering in the event of a fire.
You are repairing or replacing more than 25% of the roof area, in which case, the roof thermal insulation would normally have to be improved.
---
Kitchens and Bathrooms
If you intend to refit a kitchen or bathroom with new units and fittings, this generally does not require building regulation approval. However, any associated drainage or electrical works that form part of the refit may require approval under the building regulations.
---
What is a Party Wall and how may this affect any work I may wish to do to my Property?
Essentially, The Party Wall Act exists to make it easier to undertake building work on or near a boundary with a neighbouring property. It extends common law rights to allow a building's owners to undertake work that will affect a party wall or structure shared with one or more neighbours.
Its intention is to prevent disputes between owners by allowing independent assessment of the risk from construction work and by agreeing any action necessary to prevent damage. The Act also provides an agreement for access to carry out works, monitoring, and for resolution of disputes.
If your building work is either on the boundary of a neighbour's property or on or up to the neighbouring wall, you will need to observe the terms of the Act. You may also need to comply if you are excavating on, or within 6m of the boundary, depending on the depth of your excavation.
For more information, we suggest you visit www.communities.gov.uk
---