Loft Conversions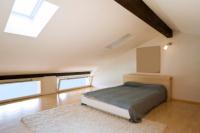 Benefits
Offers more living space.
Can add in the region of 15% to the value of a typical semi-detached property.
Create windows that give you access to a different view.
...and it may not even require planning permission!
---
Do I Need Building Regulations?
Building Regulations approval is required to convert a loft or attic into a liveable space.
The guidance in this section is aimed at those properties which are no more than 2 storeys in height. Whilst the requirements are similar, they are more extensive for houses over 3 storeys and can extend to other parts of the building.
For any loft conversion, the regulations will be applied to ensure that:-
the new floor is structurally sound
the stability of the structure (including the existing roof) is not endangered
allows safe escape from fire
safely designed stairs to the new floor
reasonable sound insulation exists between the loft conversion and the rooms below
Boarding Out for Storage
In most cases, the timber joist which form the floor of the loft (and the ceiling of the rooms below) have not been designed to support the significant weight associated with making the space habitable. An excessive additional load may mean that the exisitng joists are loaded beyond their design capacity. Accordingly, if you decide to lay flooring boards over the existing joists in the loft space, then you may require a Building Regulations Application.......remember, a box of books can represent a substantial dead load.
---