Bathrooms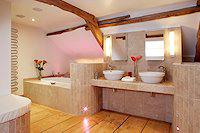 When it comes to house appeal, a new bathroom is high on the list of must do projects.
According to the Nationwide Building Society, the creation of a new ensuite or second bathroom can add 5% to your home's value.
Beyond monetary gain, these improvements can quite literally transform your home, improve your quality of life and when it comes to selling, provide you with the advantage over similar style homes that are presently on the market.
---
Do I Need Planning Permission?
Normally, you do not require planning permission to install a new bathroom unless it is part of an extension.
If your property is listed, you should consult with your local planning authority or seek the advice from our architectural or planning consultants.
You might want to consider information in these additional areas:
---