Side Extensions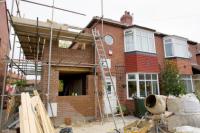 For many reasons, moving home in order to find more space may not necessarily be the answer. Instead, why not consider extending the space you already have? Certainly, an extension can add value to your property and may represent a cost effective solution to meeting your space needs. The benefits of doing this include:
Add value to your present home
Avoid the costs, effort and time associated with moving
The ability to create greater living space to meet your present needs
The ability to future proof your home
In certain circumstances, it may be that you do not even need planning permission!
---
Key Points
Any side extension you propose can be no wider than half the width of the original dwelling house. In this case, the original house means as it was first built or as it stood on 1st July 1948. If you intend to build within 2 metres of the boundary, the important thing to recognise is the height restrictions that apply depending on the style of extension you propose.
In addition, did you realise that you can build upon no more than 50% of your garden area? In working this out, please remember to include those outbuildings which already exist here in your calculation (say your garage or shed for example).
If you live within any area that enjoys a statutory designation* such as a conservation area or national park, do remember that it will not be possible to build a side extension without planning permission. Please see the planning application section on information on how to apply for planning permission.
You might want to consider information in these additional areas:
---