New Build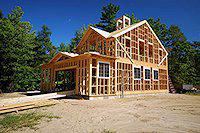 Building your own home can be a daunting prospect but from our own personal experience, should never be discounted. For many, the most challenging part of the process is finding a suitable plot for a new dwelling (ideally one with planning permission) or promoting one through the planning process.
Once you have found a site, the process of buying the land is often quicker and easier than buying a house given that there are no selling chains to deal with for example.
Building your own home can be cost effective and the costs for doing so are favourable when compared to building an extension. For example:-
Zero rated VAT for new build homes.
Working with an existing building requires an amount of compromise due to the limitations of the site and building which inevitably affect the design and construction.
Your opportunity to be creative and shape your living space.
A simple extension or conversion can be stressful as it can have a huge impact on your daily routing through loss of rooms.
If a new build is a step too far, please remember that most home improvements will add value, improve your quality of life and ultimately, make it easier for you to sell your home.
You might want to consider information in these additional areas:
---