Double Glazing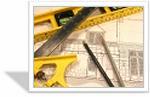 Attractive doors and windows can add value to your property in several ways.
Firstly, they can enhance the appearance of your home, reduce drafts, reduce your energy bills and last but not least, improve the security of your property.
Quite simply, double glazing is formed by placing two panes of glass several millimetres apart. The trapped pocket that is created forms a highly efficient insulating layer that can dramatically reduce the heat loss from your home.
Along with the heat saving benefit, they add security in their strength, durability, and multi-point locking system. Many homeowners have implemented double glazing as a part of their remodelling strategy and have enjoyed utility bill savings somewhere in the region of 10% per month. Furthermore, double glazing reduces noise pollution, they require extremely low maintenance and cleaning and are unsusceptible to moisture induced rot.
With advances in manufacturing techniques, there are a multiple of choices of finishes for your replacement windows and doors. The misconception that replacement windows and doors come in PVC finish only is a thing of the past with frames being offered in aluminium and hardwood also.
Double glazing can easily fit your budget and its maintenance cost is negligible. Overall, double glazing is an attractive choice for those considering a minor remodel to improve the look of their homes.
See Also: Do I always need Building Reg approval?