Garage Conversions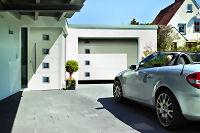 Benefits
A few of the benefits of converting your garage into habitable accommodation
Create additional living space
For those wishing to work from home, a garage conversion can offer a viable solution to their accommodation needs
Conversion back into a garage will be possible at a later date
---
Do I Need Building Regulations?
Whilst you do not generally require planning approval to convert your garage into habitable space, you will normally require approval under the Building Regulations.
Walls:- If for example you intend to infill the garage door with a new wall and a window for example, you will require approval. The reason for this is that the garage is likely to have been constructed off a shallow slab and therefore a new foundation required for the new wall.
Floors:- Although the existing floor within the garage is likely to be strong enough for home use, it is likely that is will require upgrading to ensure it is adequate in terms of damp-proofing and thermal insulation. Also, you may wish to change the level of the floor to match that of the existing house. If this is the case, the easiest way to do this is to upgrade the existing concrete floor or if the levels permit, construct a timber floor over the existing.
Ventilation:- The Building Regulations require that each new room (including garage conversions), should have adequate ventilation for general health reasons. Depending on the use of that room will determine the level of ventialtion that will be required. Ventilaton can be provided in the following ways:
Purge:- Quite simply, this can be acheved by opening the window. Typically, the opening should have an area of at least 1/20th of the room it is intended to serve. This will vary for a bathroom which can have a window of any openable size.
Whole Building:- Colloquially know as trickle venitlation, this is also required and is normally found in modern windows which incorporate a tricke system in the head of the window framework.
Whilst both these forms of ventilation are normally required, this does not preclude alternative approaches to ventilation. Such an alterantive route should be discussed with the Building Control Body.
---