Roofing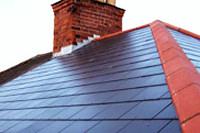 As the uppermost part of a building, the roof quite literally protects the building and its contents from the effects of weather. The characteristics of a roof are dependent upon the purpose of the building that it covers, the available roofing materials and the local vernacular.
---
---
Do I Need Planning Permission?
Planning permission is not normally required to insert sky lights, roof lights or to re-roof subject to the following limits and conditions:-
Any alteration cannot project more than 150 millimetres from the existing roof plane. That is, if you wish to insert a roof or skylight, it cannot project more than 150 millimetres.
No alteration can be higher than the highest part of the roof.
Side facing windows to be obscure glazed and any opening to be 1.7 metres above the floor.
What you should appreciate is that certain other restrictions may apply to your particular property. For example, you may live in a Listed Building, Conservation Area or an area covered by an Article 4 Direction meaning that certain works which could normally be undertaken will be the subject of control . If you are in doubt, please contact our relevant local authority. When contacting them, all you normally require to tell them is the address of the property and if any works have been carried out to the property that you are aware of.
---