Outdoor Garden Room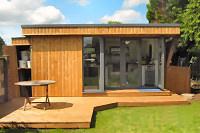 It is estimated that almost 30% of the UK working population are now based from home. Over the next five years, the number of people working from their own home will continue to rise rapidly. With high property prices (and associated moving costs), high office space rents and an upsurge in entrepreneurship the upward trend in working from home is set to continue for the foreseeable future.
Life and work balance is the most important issue with any home based work or home business. The main reason people work from home is to achieve a more balanced, less commuter orientated lifestyle and spend quality time with their families. An Outdoor Room offers the perfect division between home and work.
---
Outdoor Garden Room
With living space at a premium and the loft full of unwanted gifts and furniture that may not even be yours, how else can you meaningfully take up the working from home opportunity? If you are lucky enough to live in a house with a reasonably sized garden, the answer may lie just there. An office located in the garden works on many levels. Firstly, it quite literally divorces your work life from your home life and being in a "green environment" helps focus the grey cells. Furthermore, if you have been using a bedroom as an office, you can reclaim that space for its rightful purpose and in doing so, makes the home more marketable when it comes to selling. The costs of creating a room with a view quite often equates to less than the stamp duty on an average house sell and a sympathetic and well designed outside room will add value to your property.
If you do consider creating an outside room, it needs to be a space which is comfortable and pleasant to be in. Firstly, make sure that the proposed structure is sited on foundations and not slabs and don't forget the need to run power cables from the house to the outside room. The building must be insulated in order to avoid freezing in winter and overheating in summer and finally remember that outside rooms can be vulnerable to burglary and therefore you will need to fix locks and possibly an alarm system.
You might want to consider information in these additional areas:
---
Do I Need Planning Permission?
You do not need planning permission to erect such a structure if:-
You do not build it forward of the front elevation of the house;
It is less than 3m high with a flat roof and 4m high for a pitched roof;
Any part of it that is 2m away or closer is less than 2.5m high;
The proposal doesn't involve the need to construct a raised platform more than 300mm high;
It will take up less than 50% of the garden area.
Other restrictions may well apply if for example you live in a Conservation Area or your house is Listed so it is worth checking with the relevant Local Authority.
---
Who Can Help Me?
Please enter your postcode to find businesses local to you:
---