Cellar or Basement Spaces
Cellar or Basement Spaces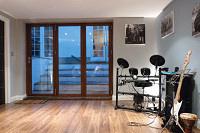 Benefits
Increases your living space
Adds value to your home
Avoids the time, effort and costs associated with moving home
---
Do I Need Planning Permission?
Presently, converting an existing residential cellar or basement into a living space is in most cases unlikely to require planning permission as long as:-
A separate stand alone unit is not created. For example, you could in theory create a separate granny annexe which would require planning permission.
The usage of the basement is not significantly changed. For example, if you wished to run a business activity such as commercial storage from there, then you would require planning permission.
A light well is not added.
It does not affect the appearance of the property.
If you intend to excavate in order to create a new basement, planning permission would be required if:
It will involve major work.
A new separate unit of accommodation is created.
It alters the appearance of the external appearance of your home. For example, the addition of a light well.
Last but not least, if your home is Listed, you will require Listed Building Consent for internal and external works.
You might want to consider information in these additional areas:
---