Solar Panels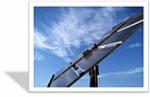 All solar installations are subject to the following:-
Panels on a building should be sited to minimise the effect on the appearance of the building.
Should be sited in order to minimise the effect on the amenity of the area.
Where they are no longer required for microgeneration, they should be removed as soon as possible.
---
Do I Need Building Regulations?
With the installation of roof mounted solar panels becoming increasingly popular, it is important to recognise that Building Regulations will Normally Apply should you wish to fit them to your roof.
The issue here is whether the existing roof wil be able to take the extra roof loadings that solar panels will impose on it. Therefore, it will be necessary for you to demonstrate that your roof is capable of taking the additional imposed weight.
Building Regulations do not stop there however. Regulations will also apply to the electrical installation and therefore, we recommend you contact a competent person to undertake this work.
---