Garage Door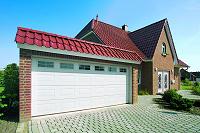 Benefits
Improved appearance – a garage door represents a large percentage of the facade of most houses.
Better security - modern doors are more resistant to break-ins.
Improved insulation – essential for integral garages, an insulated door can give real savings from day one.
Ease of use – high quality engineering and durable high performance components make modern doors easier to operate for longer.
---
Key Points
Choose the type and style of door that meets your needs. Considerations should include, appearance, security, thermal efficiency and ease of use.
The range of styles, materials and options available on the market will meet any design consideration but the main consideration should be based on how you will use your garage.
The cheapest option is a steel up-and-over door. There are canopy and retractable versions of this type of door. Canopy doors protrude from the door opening when open, whereas the retractable rests on tracks inside the opening. The retractable is less susceptible to rust and the design lends itself to an increased life. Space is needed in front of the garage for these doors to swing open.They are ideal for a stand alone garages where there is no requirement for any insulation.
Space saving roller doors can open even when a car is parked right in front since, as the name suggests, they roll up onto a barrel. This type of door is usually automated, however a key feature to consider, is the ability to be operated manually, particularly in the event of power failure, without the need for a crank handle. With many roller doors the door laths are often made from insulating materials however the design is such that this effect is minimal due to airflow around the door and between the laths. Ideal for external garages and where there is a short driveway.
Sectional garage doors are the only truly insulating doors available. Here the door retracts onto tracks inside the garage in sections. Different levels of insulation are available and better quality doors are also weather-sealed. This style of door is more secure and break-in resistant and is the option to choose for an integral garage. A sectional door also offers the easiest solution to converting an integral garage into a room. A highly insulated, weather sealed door can be used to create a "wall" and can always be returned to use as a garage simply by opening the door.
All doors can be automated adding to the ease of use, and when combined with matching entrance doors can give a home a dramatic face-lift while improving both thermal efficiency and security.
There is much more to the garage door than simply the price. It pays to speak to the experts and to really make sure you get the option that suits your property and how you intend to use your garage.
---