Outbuildings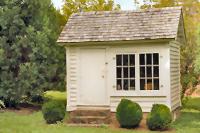 Benefits
Additional storage space.
For those wishing to work from home, an outbuilding can provide the answer when space within the house is at a premium.
The cost of creating an outbuilding often equates to less than the stamp duty on an average house sell.
A sympathetic and well designed outside room will add value to your property.
You might want to consider information in these additional areas:
---
Key Points
The way we use our gardens has thanks to the media changed over recent years. Today, our garden is seen quite literally as an extension to our home and a perfect opportunity of creating additional living space. In certain circumstances, our garden can offer great scope in terms of the plethora of building and structures that can be located hereabouts without the benefit of planning permission. What to remember is:-
Location: The relation to an adjoining boundary and highway are key
Height: The height of the proposal and its relation to an adjoining boundary are important
Ground Coverage: Remember that no more than 50% of land around the original house can be covered by additions or other buildings. This only applies to land which isn't constrained. For example, if you live in an area designated as a national park, the Broads, Area of Outstanding Natural Beauty or world heritage site, a 10 square metre rule applies to all structures located more than 20m from the house.
---
---