Estate Agents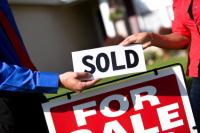 To find an Agent local to you enter your postcode here:
What do they Do?
Estate Agents provide services to people buying and selling property, however estate agents are normally paid exclusively by their client, who is the person selling the property. You will find offices of estate agents in just about every town and village - some are small businesses that serve just a local area, others may be part of a larger chain that could even cover the whole country. Property ownership is a national obsession and estate agents often play a significant role in the market.
7 Simple Steps to Buying a Home
Know the:

Location
Amenities you require e.g. distance from shops, train station etc.
Type of property e.g. house, flat etc.
Size of property e.g. how many bedrooms
Other requirements from the property e.g. off road parking, garden
The condition of the property you want to purchase e.g. ready to move straight into, needs a little redecorating, needs renovating

Money – how much do you have at your disposal to put down as a deposit? The more you can put down as a deposit the less you will need to borrow.
Visit a Financial Advisor – an independent financial adviser can help you decide what you can comfortably afford to repay and offer you the best mortgage product to suit your individual needs.
Start searching for your ideal property. It's never too early to start looking for properties, although it's sensible to have an idea of your budget so as not to waste time. Look at what other similar properties are on the market for in the same area – this will give you an idea of how realistically the property is priced and may prevent you falling into the trap of paying more than the property's worth.
Make appointments for viewings through the estate agent who introduced you to the property. When viewing don't be afraid to ask the agent as many questions as you want regarding the property and its condition. It's important to know what you are buying. Although it is the agent's job to try to sell you the property, they are legally obligated to disclose all information about the condition of the property and any other relevant information affecting the value of the property. Don't forget to ask about factors outside the property e.g. any problems with neighbours etc, and if you're viewing a flat/apartment remember to ask how much the maintenance fees and ground rent are (may not be applicable in all circumstances).
Make an offer, once you've found the property that's right for you. Ask the agent how long the property has been on the market for as this may mean the vendor will be more likely to settle for less than the asking price. With a property that's fresh to market on the other hand, be prepared to have an offer that's less than the asking price rejected. If your offer is rejected, don't give up – haggle! Vendors will often initially put their property on the market for the highest price they can realistically ask for, to allow room for haggling. Chances are, after a little haggling, you and the vendor can meet each other half way. The agent will act as the middle man in this process, so both parties will act through them.
Instruct a Solicitor to act on your behalf once your offer has been accepted. They will be responsible for all the legalities involved in buying a property (known as conveyancing). Whether you are buying with a friend, partner or legal spouse, it is wise to have your solicitor draw up an agreement which will protect both of your rights, should you wish to go your separate ways in the future, however much of an unlikelihood this may seem. Your solicitor should then work on your behalf and contact the vendor's solicitor to begin proceedings.