Home Information Pack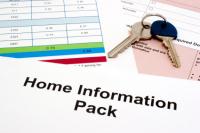 Are you selling your property? If so, you will need an HIP carried out and to help you, we can signpost you to a local HIP provider.
To find an HIP Provider near you enter your postcode here:
What is an HIP?
An HIP is a set of documents (free of charge) providing a buyer with essential information about the property. It is a legal requirement of either the vendor of the property or the vendor's agent to provide this to the buyer at the start of the process. A vendor cannot market their property until the HIP has been prepared.
The purpose of an HIP is to provide the buyer with all relevant information about the property to prevent them stumbling across any surprises later on, which may lead to a delay in the property buying process, which ultimately may lead to extra costs being incurred by the buyer and/or the vendor.
The HIP for a freehold property must contain the below compulsory elements:
Index - a list of all documents contained within the HIP, dated.
Property Information Questionnaire (PIQ) - completed by the seller, providing the buyer with useful information about the property.
Energy Performance Certificate (EPC) - provides information on the energy efficiency of the property. NB when a property is purchased off plan a Predicted Energy Assessment (PEA) is required. Once the property is built an EPC must be produced.
Sustainability Information (Newly Built Homes only) - it is compulsory for all newly built homes to have a certificate showing the property's sustainability. This is in line with the 'Code for Sustainable Homes' which measures the property's environmental impact across 9 categories e.g. CO2 emissions.
Sale Statement - provides basic details of the property, the vendor, and the type of tenure.
Land Registry (or Evidence of Title) - documents which prove who is the owner of the property or land.
Searches including:

Local Authority and Land Charges, details the property address, land charges, planning permissions and building regulations relevant to the property.
Drainage & Water, details water, drainage and sewer connection information (obtained from the local water authority).
In the case of a leasehold property, all of the above documents are needed, and in addition the HIP must include a copy of the lease.