Moving House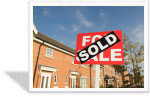 Move or Improve, that is the milllion dollar question.
We are actively teaming up with estate agents local to you who are able to offer a
No Obligation Valuation of Your Property.
To find out more, please enter your postcode and we can provide you with details of an agent local to you:-
Why have your property valued?
To provide you with a realistic idea of what your home is worth with or without any improvement work being carried out.
Help inform your decision of either moving or improving your home.
Assist you in the marketing of your property if you decide to move.