Architects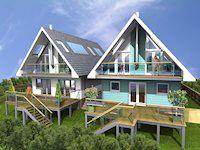 The merits of employing an architect cannot be underestimated particularly when it comes to complex schemes. Architects are involved in the planning and drawing of a design, as well as overseeing its construction. This involves taking into consideration not only environmental and economic needs, but also the concerns of the construction team, which include materials and safety. The design has to be functional, thus an architect needs to have knowledge of the builder's requirements, such as which planning and building regulations the construction must abide by. Ultimately the employer wants a design that is going to be most economically effective for them.
The successful delivery of any build project will in part be down to project management. No matter how large or small the development, its success will be judged if it is delivered:-
on time
to budget
to a level of quality that meets the needs of the clients
Therefore, early investment in planning, programming and design can help deliver these benefits and more and avoid unnecessary costs and delays.
You might want to consider information in these additional areas:
---