Top 10 strangest homes around the world
March 23, 2012
When most people think about amazing architecture, they tend to imagine places such as the leaning tower of Pisa, Notre Dame cathedral or Sydney Opera House. However, there are in fact many less well-known houses around the world which are just as creatively designed.
Many people are inspired when they see images of unusual homes. While you may not want to create any outlandish features in your home, it's common for people to want to change bits and pieces which don't appeal to their tastes. If this is the case, make sure to check that your home insurance policy will not be affected by these changes.
Things such as a newly landscaped garden or DIY projects gone wrong are often not covered by standard policies and will require an enhanced level of insurance cover. It's best to check with your insurance provider before making any significant changes to your home.
Here's a quick guide to some of the strangest houses from all across the globe.
The Eliphante Art House, located in the town of Cornville in Arizona is the perfect example of a strange but beautiful home. It belongs to an artist named Michael Kahn, who lives in the house with his wife Leda Livant. Together they designed this stone house whose winding interior pathways and rounded stone exterior resemble something from a fairy tale.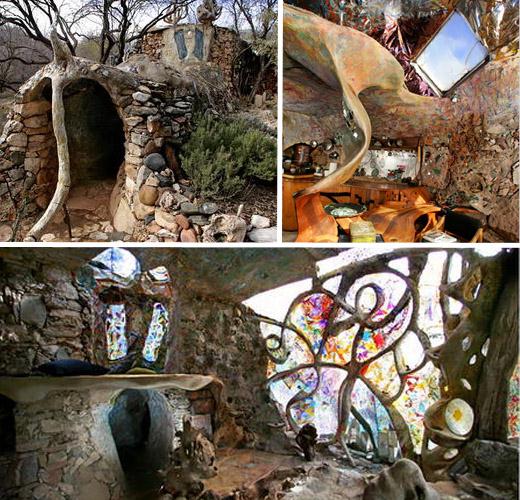 The Crooked House, situated in the town of Sopot in Poland is another strange construction. The warped and curved lines of the exterior are almost dizzying to look at. It was built in 2003 and was inspired by children's story books, particularly those illustrated by Jan Marcin Szancer.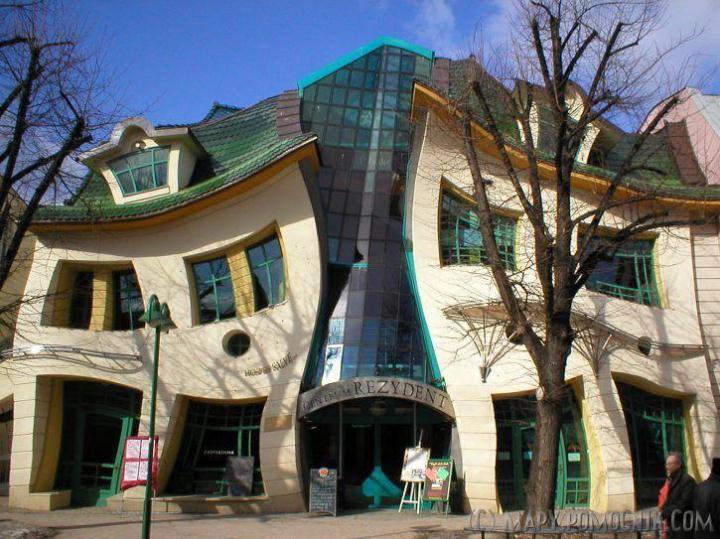 Another building in Poland which is rather strange is the Upside Down House. This house is tilted and, as the name suggests, has been built upside down. Located in Szymbark, this astonishing building was created by a man called Daniel Czapiewski.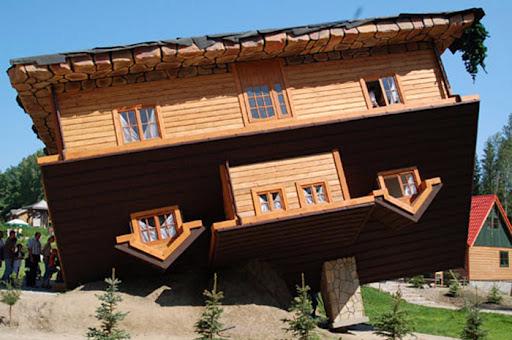 The Nautilus House in Mexico is just as strange and delightful. This creation was designed by the architect Javier Senosiain and resembles a mollusc shell, with a stunning wall of colourful stained glass on one side of the house.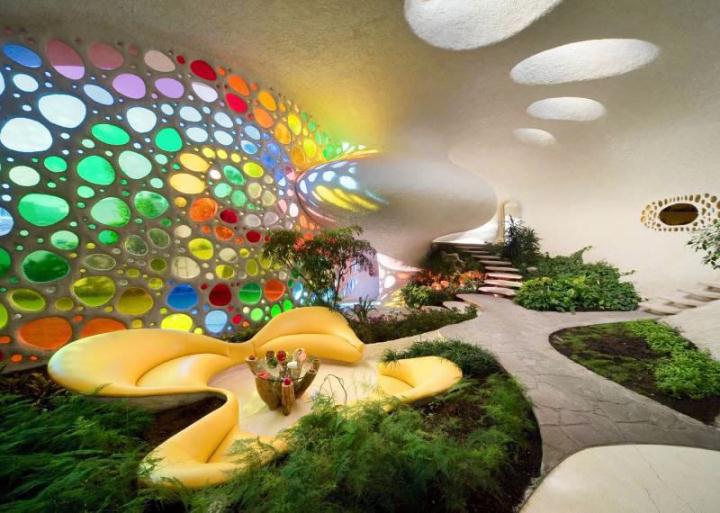 Not to be outdone by the weird and wonderful houses in Europe, the USA has its own collection of strange homes. The Log House is located in California, in Garberville. This is a tiny house which was built from one of the state's famous 2000-year-old redwood trees. This isn't any ordinary cabin however - it was created in the shaped of an actual log.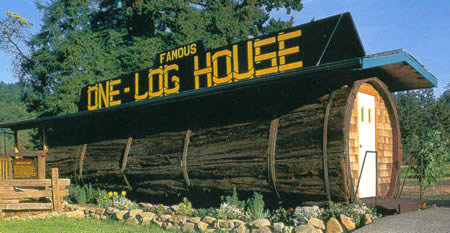 The Steel House can be found in Texas, in Lubbock. It was constructed using more than 100 tonnes of steel and is in the shape of a pig. People from all over the USA come to Lubbock to see this strange and rather amazing creation, designed and built by an artist named Robert Bruno.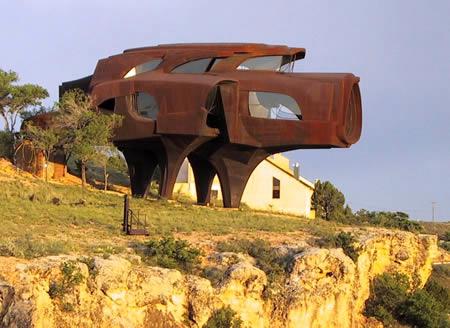 Another American example of peculiar architecture is the Shoe House. This shoe-shaped house can be found in Pennsylvania and was originally used as a guest house for visitors by a man called Mahlon Haines, who owned several shoes stores.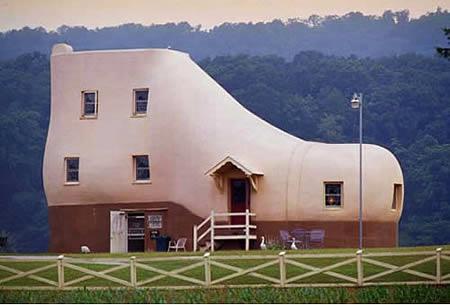 In the Netherlands, a row of houses in Rotterdam are famous for their unusual shape and colour. The Cubic houses, so named because of their cube-shaped exteriors, were designed by Piet Blom, who drew his inspiration from nature. He wanted to create a series of houses which bore a resemblance to an abstract tree.
Elsewhere in mainland Europe, other architects have been hard at work creating strange houses. The Forest Spiral is one such example. Work began on this creation, which is made up of 105 apartments, in 1998 and was completed more than three years later. It's colourful, misshapen exterior was designed by Friedenscreich Hundertwasser.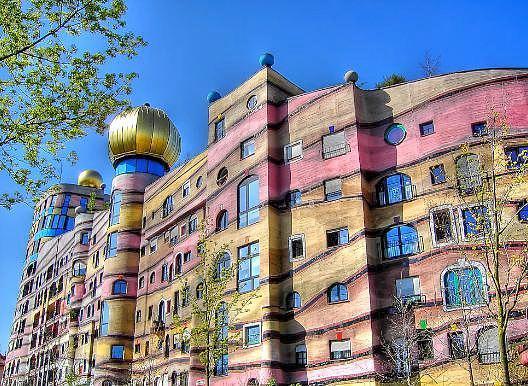 Asia has plenty on offer in terms of odd-shaped houses too. One example is the Hang Nga Guesthouse in Vietnam. The strange twists and turns of the walls of the house give it a warped, visually disconcerting shape.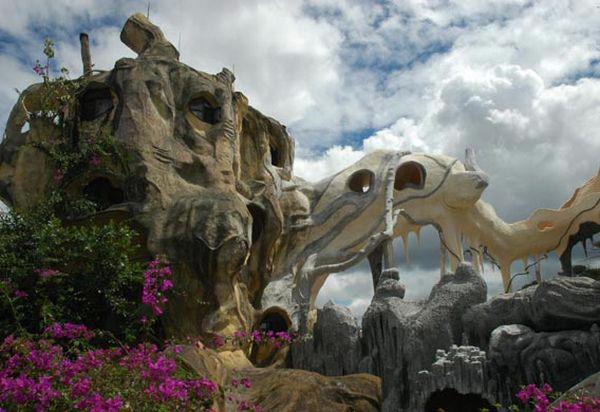 To find a company who may assist you further, simply click on the free links located on the right hand side of the page.
---
Comment on This Article:
All HTML, except <i>, <b>, <u> will require your comment to be moderated before it is publicly displayed.
If you would like your own avatar displayed, read about comment avatars.