Garage Door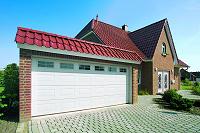 Benefits
Improved appearance – a garage door represents a large percentage of the facade of most houses.
Better security - modern doors are more resistant to break-ins.
Improved insulation – essential for integral garages, an insulated door can give real savings from day one.
Ease of use – high quality engineering and durable high performance components make modern doors easier to operate for longer.
---
Who Can Help Me?
Please enter your postcode to find businesses local to you who can help:
---